Vision Statement
The College of Arts and Sciences will create and maintain an environment in which faculty and students collaborate in the cultivation of the creative arts, scientific inquiry, and humanistic pursuits, enjoying and purveying the wisdom which these engender.
Mission Statement
Housing core disciplines essential to all majors, the College of Arts and Sciences provides the scholastic foundation of the University of Louisiana at Monroe. The College takes the following as its mission:
To serve as a proving ground for critical thought, efficient problem solving, and effective communication.
To commit its resources to create and cultivate a scholarship-based environment in which faculty and students flourish in the joint quest for knowledge.
To transport students beyond awareness to immersion in artistically, culturally, and scientifically diverse activities, guiding them to realize their potential in the classroom, laboratory, studio, and community.
To instill in its constituents a life-long desire for knowledge and creativity, thereby developing them personally and as valued members of society.
Seal
Ars represents areas such as painting, music and theatre, but it was also used by the ancients to describe technical skill and human ingenuity.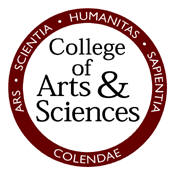 Scientia is knowledge which is perhaps more measurable and thus designates scientific disciplines.
Humanitas is built on the word homo, human, and refers to those activities that make mankind special in creation.
Sapientia, wisdom, is that elusive concept which is the ultimate goal of all the College's efforts.
Colendae, from the verb colo, a very old Latin word originally meaning to dwell in a place, referred especially to a god. The divine indwelling made a place holy. The word also meant to cultivate the earth, a religious act for the ancients who plowed around an area on which they intended to build a settlement. The form colendae, modifying ars, scientia, humanitas, and sapientia, implies necessity and futurity.
The seal acknowledges the College's mandate to cultivate the arts, sciences, and humanities, and to seek the wisdom to which these lead.