Accreditation
The College is accredited by AACSB International (The Association to Advance Collegiate Schools of Business) at both the undergraduate and the graduate (MBA) level.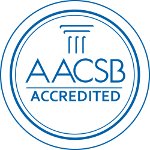 The Department of Management and Marketing is one of four academic departments of the College of Business and Social Sciences at ULM, and administers curricula in three majors: Entrepreneurship, Management, and Marketing. Each of these four-year programs leads to the Bachelor of Business Administration (BBA) degree. These degree programs have been carefully structured to provide students with knowledge which balances their need for general education, and their need for more specialized professional education
Benefits of Majoring in Marketing
Marketing graduates have many different types of opportunities. A degree in marketing leads to a people-oriented career with good promotion and earning potential. Job assignments for marketing graduates are often exciting and constantly changing, and they are excellent training for higher-level executive jobs. 
To prepare for a marketing career while attending ULM, it is a good idea to join student organizations on campus to further develop problem solving, management, and marketing skills. Pi Sigma Epsilon is a national co-ed marketing/business fraternity participating in marketing projects, field trips, and conventions. The activities of Zeta, our Pi Sigma Epsilon campus chapter, are designed to provide an opportunity to interact with the business world outside the classroom.