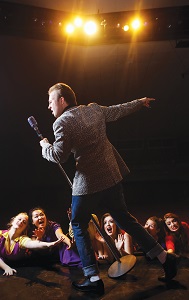 Bye Bye Birdie the musical will feature
the ULM Dance Repertory Ensemble
March 22-25, 2018
Brown Theatre, ULM Campus
Open to the public
Call 318.342.1312 for more information.


ULM Repertory Dance Ensemble auditions for Fall 2018 participation:
Saturday, April 28, 2018  10a-12p
Brown Annex, Studios 120 & 122
ULM Campus
Doors will open at 9:30 a.m.
No prepared audition is required.  Please be prepared to audition in all styles: ballet, modern dance, jazz and tap.  Participation in the audition will also put you in consideration for a Talent Grant Award.  There are limited positions in the Repertory Dance Ensemble as well as Talent Grants. Please sign-up for the audition in the ULM Dance Department, Brown Annex, rooms 116 or 114. 
For more information, please contact: Robin Stephens, stephens@ulm.edu; Tina Mullone, mullone@ulm.edu; Gretchen Jones, gjones@ulm.edu.