Published September 17, 2013
The University of Louisiana at Monroe Water Ski Team will host their annual Bayou Classic Water Ski tournament Sept. 21-22 on ULM's campus.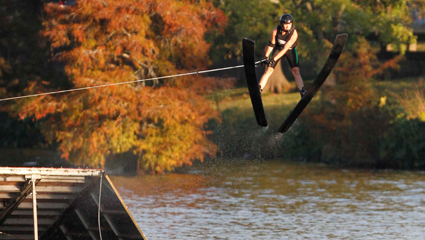 Each day's skiing will begin on Bayou DeSiard at 8 a.m. This event is free and open to the public, and students are encouraged to come.
Treina Landrum, director of Recreational Services and ULM Water Ski Team coach, believes the Bayou Classic is a crowd-pleasing event.
"People really enjoy the spectacular skiing they see from our team," she said. "The university is really proud to have such a wonderful group of world-class athletes."
Visitors can find seating for the event on Bon Aire Drive next to the Anna Gray Noe Alumni Center.
Bleachers will be set up on Bayou DeSiard, and there will be ample parking near the seating area.
Food, drinks and T-shirts will be available for purchase.
The 2013 ULM Bayou Classic will feature three ski events: slalom, trick skiing and jumping. Spectators are encouraged to bring lawn chairs or blankets and get ready for some entertainment and pure sportsmanship.
Landrum continued, "This is a big one for us as we go for our 25th National Championship Title in October. Come support us this weekend."
ULM's team competes in the National Collegiate Water Ski Association (NCWSA) South Central Region.
Other schools in the conference include the University of Louisiana at Lafayette, Louisiana State University, Baylor University, University of Texas, Texas State University, Texas A&M University, the University of Arkansas, Mississippi State University and Oklahoma State University.
The ULM Water Ski Team holds 24 National Collegiate Water Ski Association Championship Titles; winning 24 of the 34 years the competition has been held.
Members of the ULM Water Ski Team for Fall 2013 are:

Women's Team: Jenny Benjamin of London, England; Eleanor Benjamin of London, England; Emilia Hoikkanen of Finland; Carli Guyer of Pierson, Florida; Maddison McCammon of Clermont, Florida; and Janice Stevens of Morrisburg, Ontario, Canada.
Men's Team: Jake Bridges of Ireland; Siarhei Bushyn of Minsk, Belarus; James Earl of Solihul, England; Claudio Koestenberger of Sattendorf, Austria; Martin Kolman of Prague, Czech Republic; Will Oliver of Hull, England; Nikita Papkul of Novopolotsk, Belarus; Tyler Scott of Covington, Louisiana; and Michael Stevenson of Gilbert, Arizona.
For more information on ULM's Water Ski Team and the 2013 Bayou Classic, visit ulmwaterski.com