Published October 28, 2013
University of Louisiana at Monroe Opera will be performing the Strauss classic "Die Fledermaus," also known as, "The Revenge of the Bat," at 7:30 p.m., Oct. 31 and Nov. 1, in ULM's Brown Auditorium.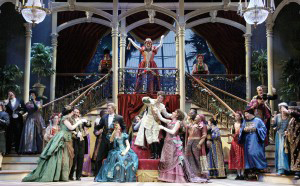 General admission tickets are $15.  ULM faculty and staff receive a reduced ticket rate of $5 with a valid ULM ID. ULM Students receive one free ticket with a valid ULM ID. 
The fully staged comedy is directed by Dr. Mark Ross Clark, associate professor of music at ULM.
The orchestra will be conducted by Dr. Deborah Chandler, associate professor of music at ULM.
Steven Burnside is the technical director and Marcy Hall has designed the costumes.
The performances will be in English, and the updated spoken script is newly written for this production.
The cast members are Claire Givens of West Monroe, Betsy Lowe of Winnsboro, Amy Matherne of Monroe, Audrey Ducote of Zachary, Daniel Zeagler of West Monroe, Nathanael Medlin of Downsville, Hayden Coie of Downsville, Hannah Bryan of Calhoun, McKenna Giovingo of Monroe, Allison Friloux of Destrehan, Mason Moody of West Monroe, Luke Holloway of Walnut Ridge, Ark., Jarius Buie of Monroe, Melissa Champion of Jackson, Miss., Karlie Stuckey of Dubach, and Julian Jones, instructor of music at ULM.
Ensemble singers are Benjamin Thoms of West Monroe, Hans Beutner of Sterlington, Allison Hall of Monroe, Elizabeth Neuberger of Greenleaf, Wisc., Orlandzeo Hennings of Monroe, Annamaria Hutson of West Monroe, and Luke Holloway of Walnut Ridge, Ark.
For information, call the School of Visual and performing Arts Box Office at 318-342-1414. To purchase tickets online, visit ulm.edu/tickets
"Der Fledermaus" scene courtesy ULM School of Visual and Performing Arts.