Published November 11, 2013
Sponsored by the University of Louisiana at Monroe Office of Career Connections and the ULM Veterans Day Committee, an event to honor the military service of ULM faculty, staff, and students will be held at 10 a.m., on Wednesday, Nov. 13, in the University Conference Center, located on the 7th floor of the ULM Library.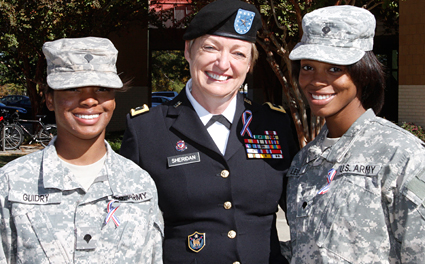 Kyle O'Neal, from ULM's Office of Career Connections said, "The ceremony serves as an opportunity for our university to show its appreciation and continued support of those service members who gave of themselves for the betterment of our community, state, and nation."
The featured guest speaker for the event is Major General Glenn Curtis, the Adjutant General for the Louisiana National Guard.
ULM veterans in attendance will be recognized for their service and presented with a ribbon of recognition.
The program will include ULM President Dr. Nick J. Bruno, and Vice President of Academic Affairs Dr. Wayne Brumfield.
Brian Sivils will perform the National Anthem and students from the Ouachita Parish High School ROTC will serve as Color Guard.
Brigadier General and ULM's 2012 Veterans Day speaker, Joanne Sheridan, will also be in attendance, along with community representatives and top ROTC cadets from local high schools.
Students, faculty, staff, and the surrounding community are welcome to attend.
In case of rain or other inclement weather, the ceremony will be held in the ULM Library Conference Center, located on the seventh floor of the library.
For more information, contact the Office of Career Connections at 318-342-1144.