Published January 8, 2016
Monroe, La. — On December 5th, the ULM football team played its last game of the 2015-16 season. The Warhawks defeated New Mexico State University on senior day, coming from behind to claim a 42-35 victory.
It was a good day on the field. But it was especially a good day for one particular fan in the crowd.
Jonathan Hendrix, 28, attended every home football game this year. Some would argue he was the football team's biggest fan. At a time when some fans threw in the towel and gave up all hope, Jonathan could be heard from the sidelines, cheering on his team with a full and content heart.
But he was never supposed to cheer.
Jonathan, who was diagnosed with Down syndrome at birth, was born prematurely, weighing only 4.5 pounds. After being in the NICU for a month, he came home for five days only to return to the hospital. Within a week, he became septic, a potentially life-threatening complication resulting from an infection. 
Doctors told his parents that there was a chance he would not live—words that no parent is prepared to hear: "We're going to do all we can, but the rest is left to God."
Down syndrome is the most common genetic condition. According to the National Down Syndrome Society (NDSS), "approximately 400,000 Americans have Down syndrome and about 6,000 babies with Down syndrome are born in the United States each year." Caused by additional genetic material in a person's body, the condition alters brain development, which results in cognitive delays that can range from mild to severe.
However, many children diagnosed with Down syndrome grow up to live happy and healthy lives. And that's exactly what Jonathan did, defying the odds on that horrific day in the hospital many years ago.
Little did his family know, Jonathan would become a pretty big fan of ULM football, and that is due in part to the special relationship he developed with two ULM football players.
It all began back in September 2014 during a home football game against Idaho. Severe weather caused a delay in play, and the game went on until after midnight. Jonathan's mother, Cindy, recounts what happened after the game that night. 
"Jonathan was able to see the players that night. Every single player that walked by acknowledged my son. But Brayle Brown came back, gave Jonathan a big hug and then handed him his wristbands. From then on, he was Jonathan's man." 
Brown, a native of Oklahoma, is a senior majoring in Kinesiology at ULM. He remembers seeing Jonathan for the first time. "I had never met Jonathan before, but that big smile on his face made me light up inside," Brown said. "To think that something I was doing on a football field was making him so happy made me feel a sense of pride."
Throughout the season, Brown developed a closer relationship with Jonathan. He invited Jonathan to eat at Raising Cane's with the football team. They exchanged phone numbers and began to text each other. 
Jonathan made a friend.
"After games, we couldn't even leave the campus until he had seen Brayle," said Jonathan's mom. "We stayed until he came out of the locker room."
Jonathan always sat by the end zone where the Warhawks would do their pre-game warm-ups. But in one of the last games of the season, Jonathan saw an injured Brown at the end zone opposite the rest of the team.
"We looked up and saw Jonathan walking, with his brace, up the ramp and all the way back down to the other end zone," said Jonathan's mom. "As his mother, it brought tears to my eyes. He wanted to be with his friend and he was determined to get there all by himself." 
In the Warhawks' game against Troy University, Brown went down with a lower body injury that caused him to miss the final four games of the 2015 season. 
During this time, Jonathan made another friend in Harley Scioneaux. Scioneaux, a 6'5" senior Kinesiology major, played tight end for the Warhawks who knew of Jonathan through Brown from the year before, and had talked with him on several occasions. Scioneaux became another good friend to Jonathan.
All three went Special Olympics bowling. Their families went out to eat together. And they always connected before and after each football game.
The three became known as the "ULM Boys."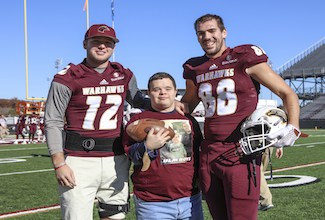 In the final game against New Mexico State University, Brown and Scioneaux invited Jonathan on the field as part of their senior-day recognition. To them, Jonathan belonged there because, in many ways, they were playing for him—their biggest fan, now a friend. Jonathan proudly joined his two friends on the field, dressed in a "ULM Boys" t-shirt featuring a photo of all three. 
The football season ended, but Brown and Scioneaux continued to communicate with Jonathan via FaceTime and text messaging.
"We've impacted his life, but I think it's safe to say that he has made more of an impact on our lives than we have his," expressed Scioneaux. 
Jonathan's story is a reflection of what ULM is all about. Games come and go. One team wins, and another inevitably loses. But the spirit of life that is so engrained within the fibers of ULM never dies. The story of the "ULM Boys" is a reminder that ULM is about changing the world, making a difference in the lives of others, and looking at life in a whole new way.
"Our season wasn't the greatest. Many games ended with a lot of anger in the locker room. But then we would come out of that locker room and there was Jonathan, standing there with a big smile and his arms wide open. He taught us how to approach life, a lesson well-learned."
The Warhawks may not have won many times on the football field this year. But off the field, well, that's another story altogether.