Published June 21, 2016
MONROE, La. — Police officers at the University of Louisiana Monroe have a new way of getting around campus, thanks to the acquisition of two new battery-powered personal transporters (PT).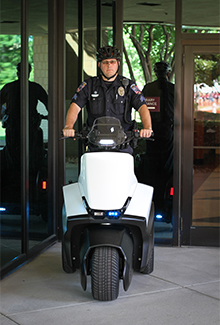 Known as the SE-3 Patroller by Segway®, the company's largest security and first three-wheel PT, the vehicle is equipped with an integrated lighting system, rear wheel drive, and 12v power outlet for charging equipment.
"These new vehicles are part of our continuing effort to enhance police presence on our campus," said ULM PD Director Tom Torregrossa. "We want students to know we are here, and so it is our hope that the Segway® PTs will serve to build closer officer-student relationships."
All ULM police officers will be eligible to operate the new PTs after completing a 45-minute training course.
The PTs will be used for special events, sporting events, routine patrol, directed patrols (areas where there is a specific need for officers to deal with certain situations), building checks, parking-lot and night patrols. 
"So far, we have had extremely positive feedback from students, and during last week's PREP session, numerous parents also expressed both positive feedback and gratitude," said Torregrossa.
The new PTs have officially been put into operation as of this week.
"Mobility and visibility are our goals. If you see us on campus, come talk to us," said Torregrossa.