Fant-Ewing Message Board
The Fant-Ewing Message Board is a three-sided, electronic billboard-type display located in front of Fant-Ewing Coliseum.

The Fant-Ewing Message Board is a great way to get university-related messages out about upcoming ULM events and an effective way to keep the campus informed. As the electronic messages appear on all three display boards, they reach both pedestrian and automotive traffic crossing campus.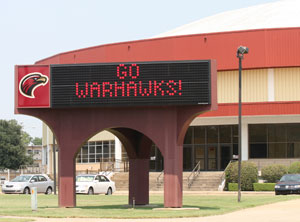 The Office of Public Information will post athletic events, student-driven events, and important dates for university openings and closings. Information for the board is occasionally gleaned from the ULM Web calender, so be sure your university-related event(s) are posted there.


Try to include as much information as possible posted to the calendar to provide complete information of what your event is about, how much it costs to attend (even if it's free), what time it starts, where it is, etc. A minimum of two weeks advance notice for your event is required—anything above that is encouraged and appreciated.


The space for creating messages on the board is limited, so please keep that in mind when viewing it. Abbreviations will be utilized. Also, board information should be updated on a weekly basis and will be posted as space allows.