ULM's 2nd President - Dr. William Rodney Cline: 1944-1950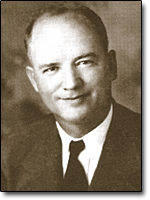 Dr. William Rodney Cline is a graduate of Louisiana Polytechnic Institute (now Louisiana Tech University) and earned a masters degree from Louisiana State University and a Ph.D. from George Peabody College for Teachers.
He taught at various schools in south Louisiana and at the demonstration school at Louisiana Tech where he also taught education.
He later served as academic dean at Louisiana Tech before becoming dean of John McNeese Junior College (now McNeese State University) in Lake Charles, Louisiana.
He is the author of numerous scholarly publications in the field of education.