ULM's 7th President - Dr. James E. Cofer: 2002-2010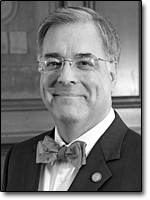 Dr. James E. Cofer was born in Vicksburg, Mississippi, in 1949.
He received his bachelor degree in business administration and his M.B.A. from Mississippi State University. He earned an Ed.D. in Higher Education Administration from the University of Arkansas at Little Rock in 1998.
Cofer served as the Vice President for Finance and Administration with the University of Missouri System and the University of Arkansas System. In 1995 as an Eisenhower Exchange Fellow, Cofer worked in conjunction with the Ministry of Education and Culture in Budapest, Hungary.
He has also served as the chief fiscal officer for the State of Mississippi and the University System of Georgia.
His tenure at ULM was marked by a renewed collegiality and campus renaissance with emphasis on student-centered learning, 56 academic accreditations, a remarkable physical transformation of ULM's campus, and "anytime, anywhere, anyplace instruction," resulting in additional online courses and degree programs.
Cofer is currently a faculty member at Missouri State University.