ULM's 1st President - Dr. Clyde C. Colvert: 1931-1944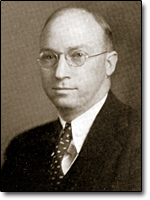 Dr. C.C. Colvert served as the first president of Ouachita Parish Junior College.
Born in Clarksville, Texas, he grew up in Eagle Mills, Arkansas, and received his master's degree in education from the University of Arkansas and a Ph.D. from George Peabody College in Nashville, Tennessee.
He worked as an educator for 13 years before T.O. Brown, superintendent of the Ouachita Parish School System, hired him to help establish the new junior college in Monroe in 1931.
Following a severe economic downturn in 1934, Colvert helped orchestrate an arrangement whereby the college would be operated by LSU as the Northeast Center of Louisiana State University.
In 1939, the name of the institution was changed to Northeast Junior College of Louisiana State University.
He stepped down as president in 1944 to assume a teaching position at the University of Texas at Austin.
Dr. Colvert died in 1991.