ULM's 6th President - Lawson L. Swearingen: 1991-2001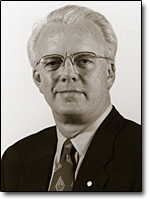 Lawson L. Swearingen, Jr., was born in San Antonio, Texas in 1944 and raised in Ruston, Louisiana.
He received his bachelors degree in government from NLU in 1966 and earned his Juris Doctorate from Tulane Law School in 1969.
Swearingen practiced law in Monroe for 22 years, which included 11 years of service as a state senator in the Louisiana legislature.
In 1991, he was tapped to serve as president of NLU.
During his administration the name of the university was changed to the University of Louisiana at Monroe in 1999.
Swearingen currently lives in Hammond, Louisiana.