ULM's 5th President - Dr. Dwight D. Vines: 1976-1991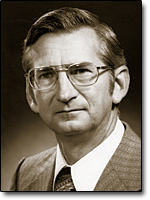 Dr. Dwight D. Vines was born in Jackson Parish in 1931.
He earned his bachelors degree from Northwestern State University, his M.B.A. from LSU and his Ph.D. in business administration from the University of Colorado.
He joined the faculty at Northeast Louisiana University in 1958 as an instructor of management, and advanced through the academic ranks to professor.
In addition, he served as dean of the College of Business Administration for nine years before being named president of NLU.
Vines is currently the Economic Development Officer for the City of Monroe.