Welcome to the Health Studies Program at ULM
The Health Studies program is an exciting four-year curriculum for preparing students for entry-level management jobs in non-clinical areas of healthcare or entry into graduate programs.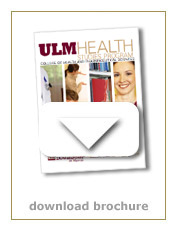 This program begins with two years of guided liberal arts courses including humanities, mathematics and sciences. Health Studies students study a variety of health study courses the final two years.
The Health Studies Online Program offers the Healthcare Marketing/Management option in an accelerated format, available through the eULM program.  Both on-campus and online curricula are very similar; however, all Health Studies courses in the online program are offered in an 8-week accelerated system.  The online accelerated method provides limited disruption to a student's life while maintaining efficient, high quality education.
The Health Studies program also offers personal attention, multidisciplinary learning, practicum, close ties to a major teaching hospital, and cutting-edge education relevant to healthcare. You will find a supportive and friendly faculty in the Health Studies department who are eager to help you succeed in your studies and healthcare career.
The Health Studies faculty encourage you to visit us and the Health Studies department. Feel free to make an appointment to learn more about the requirements for progressing to your senior year as a Health Studies student.  We look forward to hearing from you soon!
Where our Students are getting jobs:
ECR Pharmaceuticals – Pharmaceutical Sales Associate
Physician and Surgeons Hospital – Special Project Regulatory Specialist; Administrative Specialist
Gastroenterology Clinic – Director of Quality Assurance
United Allergy Specialist – Clinical Allergy Specialist
Willis Knighton Hospital – Residency Coordinator
Bawcom Chiropractor – Office Manager
Harbor Hospice – Community Education Coordinator
Vantage – Compliance Assistant
Graduate Programs that Health Studies majors have pursued:

Occupational Therapy
Psychology
Gerontology
Public Health
Business Administration
Healthcare Administration 
News & Bulletins

Congratulations to Ms. Kim Theodos, Assistant Professor of Health Studies, who was elected to the Board of Directors for the American Health Information Management Association (AHIMA) for a 3-year term. With more than 100,000 members both national and international, AHIMA is recognized as the leading source of HIM knowledge and as a respected authority for rigorous professional education and training. The AHIMA Board is responsible for setting long-term strategy and direction, governing the association's activities, and fulfilling the organizations fiduciary responsibility. As part of her board duties, Ms. Theodos will provide strategic guidance on information governance, informatics/analytics and preparation for emerging HIM roles.
---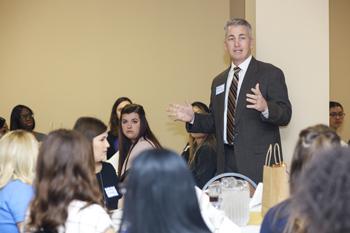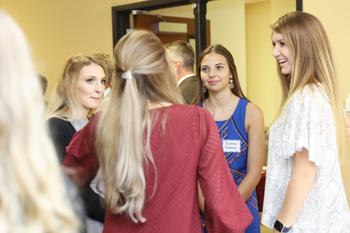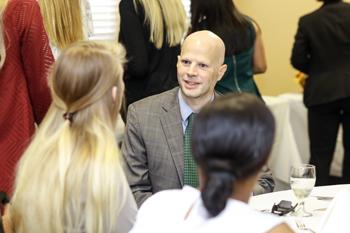 "Perfecting the Professional Image"
Thirty-five senior Health Studies students took part in a professional business luncheon held in the Student Center on the ULM Campus on October 11, 2017.  As part of their HLST 4002 Healthcare Law class, Dr. Paula Griswold, instructor of the course, coordinated a professional business luncheon where several community business leaders attended. The goal of this activity was to improve the students' awareness of business dining customs to help them succeed in this area of workplace communication. 
Important Dates & Info
---
Practicum II:
Fall Deadline: This form must be submitted by October 1 in order for the student to register for Practicum II (HLST 4003) for the Spring semester.

Spring Deadline: This form must be submitted by March 1 in order for the student to register for Practicum II (HLST 4003) for the Fall and Summer semester.

Practicum/Class fee: There is a $250.00 for the Practicum II, this fee is in addition to regular semester class fees.
GRE:
Warhawks Email Address: All email communication with ULM must occur using your ULM email account (username@warhawks.ulm.edu). If a student does not use their ULM email account, the email message may not be received. Also, Moodle and other ULM system are programmed to send information only to your warhawks.ulm.edu email account.