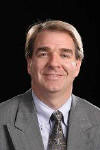 Larry Anderson is Director of Jazz and Percussion at the University of Louisiana- Monroe, a position he has held since 1988. Prior to his appointment at ULM, he was Director of Percussion at Union High School in Tulsa, Oklahoma, where he had a nationally recognized percussion ensemble and marching drumline.
As a performer, Mr. Anderson has established a successful career spanning thirty years as an orchestral percussionist. He has performed as a regular member with the Tulsa Philharmonic, the Tulsa Pops Orchestra, the Shreveport Symphony and the Monroe Symphony Orchestra. He has also performed with the Longview, South Arkansas, and Bartlesville Symphony Orchestras. Larry leads his own professional jazz group, the LA Jazz Combo. He has also performed with many well known artists including Dizzy Gillespie, Mel Torme, Dave Brubeck, Patti Page, Rosemary Clooney, Roger Williams, Peter Nero, Dionne Warwick, The Platters, Helen O'Connell, and Henry Mancini. Larry is an endorser for Sabian Ltd., and Pro-Mark Corporation.
As a teacher, Mr. Anderson's ensembles have performed as honor groups at the Percussive Arts Society International Convention, the Louisiana Music Educators Convention and the Oklahoma Music Educators Convention. His groups have also been featured at the National Collegiate Jazz Festival in Mobile, Alabama, the Memphis State Jazz Festival, and the Alcorn State University Jazz Festival. Mr. Anderson has published articles in the leading journal of percussion publication, the "Percussive Notes", and is sought after as an adjudicator and clinician throughout the region.
At ULM, Mr. Anderson directs the Jazz Ensemble, Percussion Ensemble, Steel Band, African Ensemble, Marching Drumline and studio percussion. He has performed solo and duo recitals, and throughout the years, his percussion students have won or placed in national competitions and gone on to successful careers as teachers and performers with such groups as Cirque du Soliel, Stomp, and Blast. Mr. Anderson held the Emy-Lou Biedenharn Endowed Professor of Music from 2007-2009. He has been selected as Outstanding Professor by Omicron Delta Kappa of ULM and he is a member of the Percussive Arts Society.