Fall 2017 Student Awards
Every semester, students in each semester of the professional nursing program vote for members of their class to receive Nurse Peer and Spirit of Nursing awards. 
These awards are graciously sponsored by Saint Francis Medical Center.
Recipients of the Nurse Peer Award are the member(s) of the class whom those voting would like to have care for them if they themselves were ill. Spirit of Nursing Awards are presented to the member(s) of the class voted the most positive, supportive, and uplifting.
View list of recipients from previous semesters here.
Congratulations to these students who have been selected for these very special awards.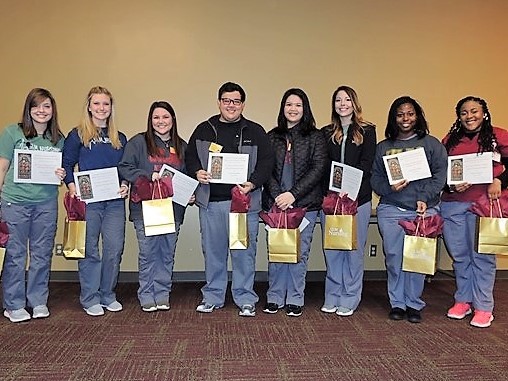 Left to right:  Semester One, Peer Award: Olivia McIntyre, Spirit Award: Kristen Kelly, Semester Two, Peer Award: Blythe Muse, Spirit Award: Colton Remedies, Semester Three, Peer Award: Joan Perez, Spirit Award: April McDuffie, Semester Four, Peer Award: Chartasha Wright, Spirit Award: Tamara Burns