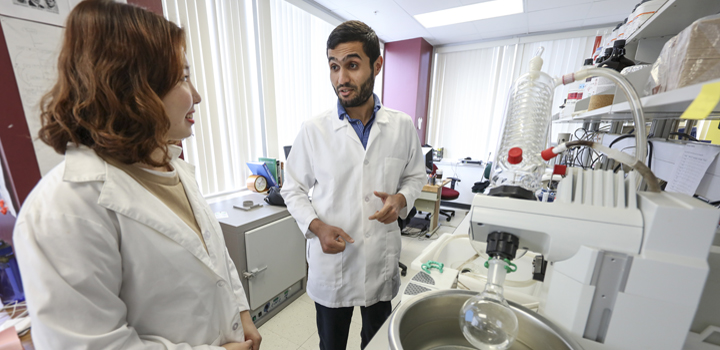 As the sole State-supported College of Pharmacy in Louisiana, this academic entity provides unique areas of research expertise to the State, and the Nation at large, in the interrelated disciplines of pharmaceutics, medicinal chemistry, natural products chemistry, pharmacology, and clinical, environmental, and industrial toxicology. The school participates in the teaching mission of the College of Pharmacy at the undergraduate level, and both professional (Pharm.D.) and Graduate (Ph.D.) programs.

Research in the School of Basic Pharmaceutical and Toxicological Sciences crosses disciplinary boundaries, linking bio- and analytical chemistry, cell biology, and anatomy and physiology, in established programs focused on the interaction of chemicals with biological systems. The establishment of collaborative interactions between faculty and Materials Research Scientists in Louisiana, with mutual interests in fundamental atomic and molecular structure, underscores the compatibility of research objectives and strategies between these groups concerning biomaterials characterization, and the significant potential for unique contributions within this emerging scientific niche.
Toxicology is the study of harmful effects of chemicals on people, animals and other living organisms. Most of the good life we have is because we use chemicals properly, including medicines, pesticides and cleaning products. Misunderstanding what chemicals can do sometimes leads to over-exposure and poisoning or, conversely, unnecessary anxiety and fear of chemicals that are relatively harmless when used properly. Toxicologists are the scientists who help decide how much is too much of a good thing.  The School of Basic Pharmaceutical and Toxicological Sciences toxicology program was the first of its kind in the South and is currently one of only six nationally.
Resources
For Information on the School of Basic Pharmaceutical & Toxicological Sciences
---
Dr. Karen P. Briski
Director
College of Pharmacy
University of Louisiana Monroe
1800 Bienville Dr.
Monroe, LA  71201
Phone:  318-342-3283
Fax:  318-342-1737
Email:  briski@ulm.edu
For information on Toxicology:

Dr. Kevin Baer
Associate Director
Waste Management Endowed Professor of Toxicology
College of Pharmacy
University of Louisiana Monroe
700 University Ave.
Monroe, LA  71209
Phone:  318-342-1698
Fax:   318-342-1606
Email:  baer@ulm.edu 
For Information on the Graduate Program
---
Dr. Kevin Baer
Associate Director
College of Pharmacy
University of Louisiana at Monroe
700 University Ave.
Monroe, LA  71209
Phone:  318-342-1698
Fax:  318-342-1606
Email:  baer@ulm.edu