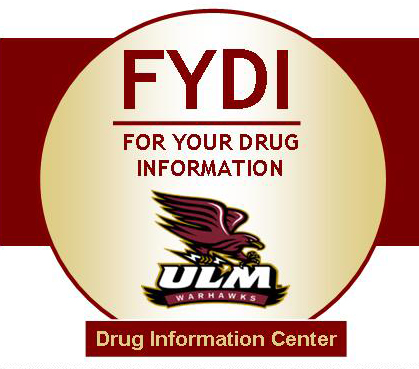 318-342-5501
The Louisiana Drug Information Center (DIC), which became operational in 1995, is located on the first floor of the College of Pharmacy Bienville Building of the University of Louisiana at Monroe (ULM). The operation objectives of the DIC are centered around the three core components of the University mission of service, teaching and scholarship, with a primary focus on service. These objectives are as follows:
To provide current, comprehensive, objective and need-specific information to the healthcare professional community of the State of Louisiana for clinical decision making and for the delivery of quality patient care.
To serve as an information resource center for faculty, students, and healthcare professionals.
To teach pharmacy students, pharmacists, and other healthcare providers the skills of efficient literature retrieval, critical evaluation of the information, and accurate communication of a response.
To conduct research for the advancement of drug information and pharmacy practice.
The service component makes up the largest portion of the DIC operation and includes providing assistance with areas such as literature retrieval, evidence-based recommendations and off-label use of medications. We respond to drug information requests from healthcare professionals regarding the following areas:

Adverse Drug Events
Availability of Products
Complimentary and Alternative Medicine
Clinical Kinetics
Drug Dosage and Scheduling
Drug Identification
Drug Interactions
Drug Regulations/Laws
Drug Use Evaluation Support
Institutional Review Board Support
Investigational/Foreign Drugs
IV Compatibility
Laboratory Interpretation
Pharmacoeconomics
Pharmacy and Therapeutics Committee Support
Pregnancy and Lactation
Product Compounding
Therapeutic Drug Monitoring
Therapeutic Uses/Drugs of Choice
Toxicology
Travel/Health Information