Meet ULM's First Lady Dr. Christine Berry

First Lady Christine Berry, Ph.D., CPCU, ARM, ARe
Dr. Christine Berry moved many times as a child and young adult. She has lived in eleven different states but has lived in Monroe for nearly 20 years and considers it home. 
Berry is the Kim Sledge Endowed Chair and Professor of Risk Management and Insurance, Director of the Small Business Risk Management Institute, and Program Coordinator for the Risk Management and Insurance program. Prior to joining ULM in 2001, Berry was a Risk Management Consultant and later the Director of Education with reinsurance brokers E.W. Blanch and Benfield Group in Minneapolis, MN, and Dallas, TX.  She also served as an Assistant Professor of Risk Management at St. Cloud State University in Minnesota.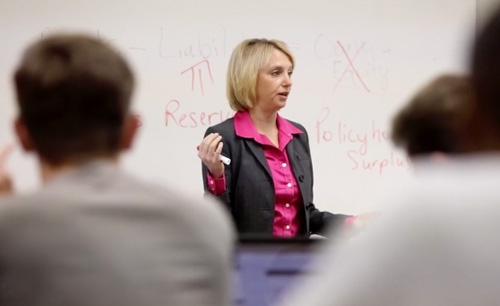 Berry earned a B.S. in Finance from West Virginia University and a Ph.D. in Risk Management and Insurance from Florida State University. She has also earned Chartered Property Casualty Underwriter, Associate in Risk Management and Associate in Reinsurance designations. 
Berry has worked closely with the Louisiana Department of Insurance during her time in Louisiana.  She was appointed by Governor Blanco to serve on the Louisiana Insurance Rating Commission and later served on the Property and Casualty Insurance Commission.  
"We want the ULM community and Northeast Louisiana to know how much their support has meant to us since even before this process began. Words can't express how excited we are to be a part of this amazing group of faculty, staff, students, alumni, and the broader community, and look forward to working together to create a bright future," stated Berry.