Kim Marie Tolson Ph.D.
CURRENT POSITION: Associate Professor of Biology
Coordinator of Biology Graduate Studies
The University of Louisiana at Monroe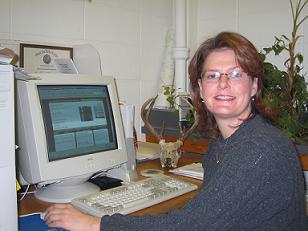 Monroe, LA 71209-0520
(318)342-1805 office (318)342-3312 fax
Education:
Ph.D. in Pharmacology/Toxicology (August 1988)
Northeast Louisiana University Monroe, LA
B.S. in Wildlife Biology, summa cum laude (November
1979) Louisiana Tech University Ruston, LA
Research
*Impact of silvicultural and hydrological practices on avian communities of bottomland hardwoods and associated habitats (also herpetofauna).
*Biology and management of the white-tailed deer in Louisiana
*Surveys for the presence of, and identification of types of malformations in amphibians.
*Enzootic diseases and environmental toxin accumulation in selected vertebrate species and the potential impact these have on physiological systems.
Grants
More coming soon
Professional Development
More coming soon
Current Graduate StudenTS
Past Graduate Students