C.1. How does the unit's conceptual framework address the following structural elements? [Please provide a summary here. A more complete description of the conceptual framework should be available as an electronic exhibit.]
a. The vision and mission of the unit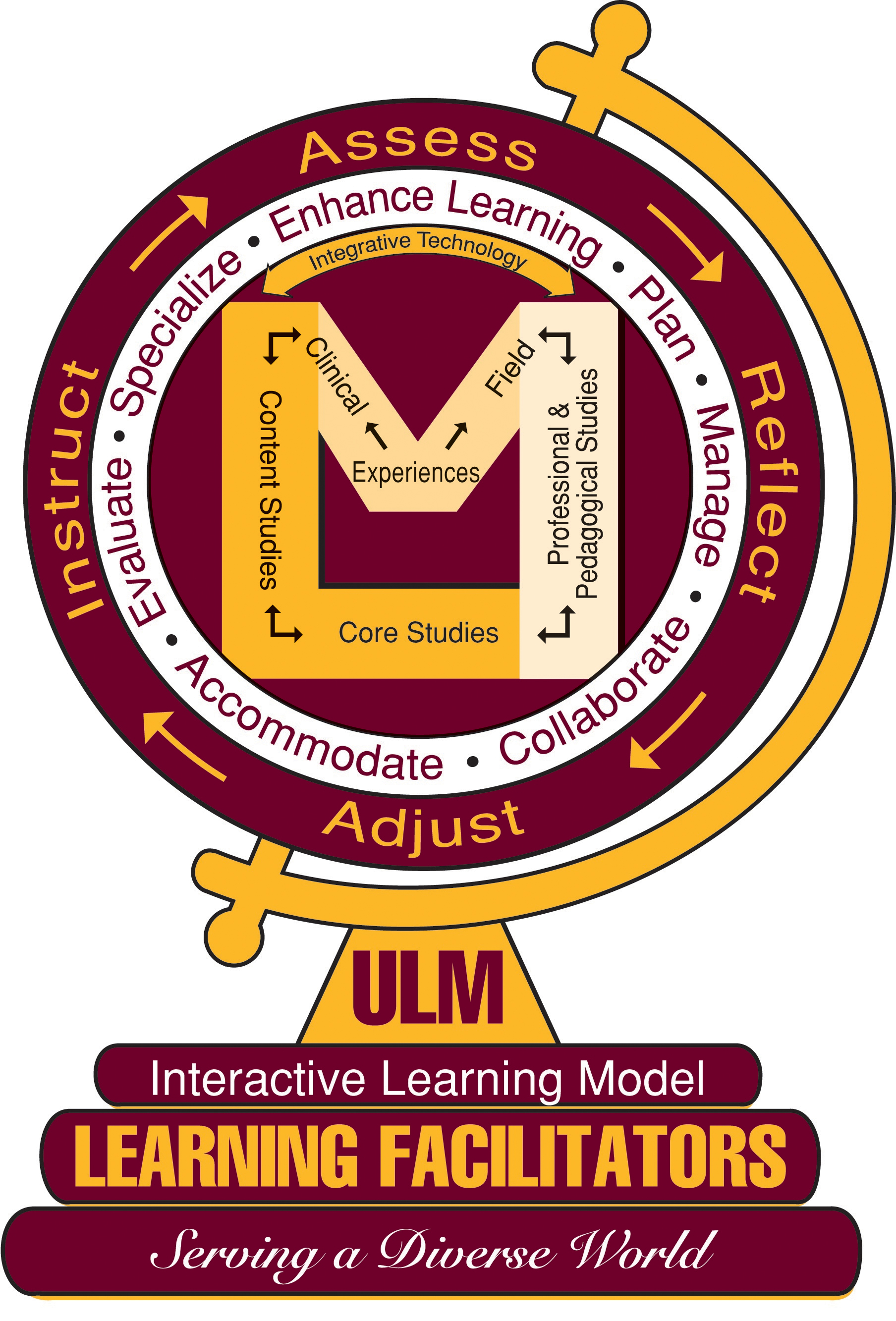 Vision & Mission
The comprehensive conceptual framework of the University of Louisiana at Monroe (ULM) captures the process, product, and practice of the Learning Facilitator who, through knowledge, skills and dispositions, can effectively touch lives through teaching (Exhibit C1.1 Conceptual Framework Description Document). The overarching goal of the ULM teacher education programs is to guide the professional growth and development of highly qualified teachers who are prepared to enhance the learning of PK-12 students. The ULM Learning Facilitator exemplifies the university vision of preparing students for meaningful lives and service to humanity by excelling in student-centered learning—turning vision into action (Exhibit A2.1 ULM Vision/Mission Statement). The College of Education and Human Development perpetuates this goal through its stated mission of providing candidates at the initial and advanced levels planned, purposeful, and strategic interaction of core studies, professional studies, and specialty studies integrated with clinical and field experiences designed to instill the knowledge, skills and dispositions necessary to serve a diverse world. The courses composing both undergraduate and graduate programs in the unit and the philosophy undergirding instructional experiences are designed to guide our candidates toward excellence as highly qualified educational professionals who personify the Learning Facilitator.
Philosophy, Purposes, Goals, and Institutional Standards of the Unit
The unit believes that the foundational knowledge, skills and dispositions that characterize the ULM Learning Facilitator begin in the classroom, but have far-reaching effects that extend well beyond the geographic limits of the campus to eventually impact the future direction of our world. The graphic depiction of the Conceptual Framework (Exhibit C1.2 Learning Facilitator Model Description) uses concentric circles to convey the unit's commitment to prepare learning facilitators to transition from the university classroom to the broader context of PK-12 classrooms and beyond as they positively impact an increasingly diverse world community. The concentric circles represent the stages and changing roles of teacher candidates as they move from receivers of information to facilitators of the learning process.
Process
Interactive in nature, the model involves an integrative process designed to ensure candidates acquire a broad base of core knowledge prior to graduating, but increasing application of that knowledge in clinical and field settings. The process, based upon standards, research findings, and sound professional practice, reflects the professional beliefs of unit members and addresses program components: Core Studies; Content Studies; Professional and Pedagogical Studies; and Clinical and Field Experiences integrating all aspects of the candidates' education with technology infused throughout.
Product
The product of this training process is the Learning Facilitator who maintains and employs specific skills necessary to ensure well-planned, continuous, and accurate service delivery to diverse populations of students. Learning Facilitators demonstrate effective knowledge, skills, and dispositions, in Planning, Management, Learning Enhancement, Evaluation, Accommodation and Collaboration, and Specialization.
Practice
The standards-based preparation that candidates receive prepares them for effective practice. The outer circle of the graphic depicts the assess-reflect-adjust-instruct cycle of the assessment system that represents continuous improvement of students, candidates, and the unit. The design, organization, and sequence of courses and learning experiences and the assessment system ensure candidate mastery of targeted knowledge, skills, and dispositions (KSD's). The books supporting the visual model symbolize the knowledge base, and the globe conveys the ultimate goal of the conceptual framework—serving a diverse world. Emphasis at both the program and candidate levels is on lifelong learning which encourages continuous evaluation of personal and professional skills and knowledge necessary for effective practice.
The knowledge, skills and dispositions espoused by the ULM Learning Facilitator are congruent with professional standards at multiple levels. The conceptual framework KSD's reflect the NCATE standards and encompass INTASC and Louisiana Components of Effective Teaching (LCET) standards. Embedded in the KSD's are elements of the National Board of Professional Teaching Standards while specific KSD's address the professional standards of specialty organizations (Exhibit C1.3 Alignment Matrix).
Knowledge bases
The conceptual framework is based upon education policies and the wisdom of practice as well as a body of knowledge supportive of best practices in teaching. The focus upon proficiencies characteristic of the Learning Facilitator grew out of studies in the early 1990's that have been refined and updated by authors such as Darling-Hammond (2005), Eggen and Kauchak (2004), Good and Brophy (2007), Feiman-Nemser, (2008), Marzano (2007), Stronge (2007), and Tompkins (2006). Although the perspectives differ, all of these authors focus upon maximizing and enhancing student learning through research-supported active teaching strategies and learner engagement. These essential elements are captured in the wording on the "product" ring of the Learning Facilitator Model. Algozzine (2006) and Burns (2008) underscore the importance of the Learning Facilitator's capability to employ effective accommodative and collaborative strategies to assure that the needs of diverse learners are met. The unit shares the belief set forth by Gollnick & Chinn (2009) that all children can learn at high levels. The words Accommodation and Collaboration illustrate unit emphasis upon academically and culturally relevant pedagogy and the importance of community connections in promoting student growth (Gay, 2000; Ladson-Billings, 2001). The vital role of assessment in state and national accountability and in the instructional cycle depicted in outer ring of the Learning Facilitator Model is supported by the work of Wiggins and McTighe (2007) and Burns and Gibbons (2008). (Exhibit C1.4 Annotated Bibliography)
Candidate Proficiencies
The knowledge and skills of the ULM Learning Facilitators in all programs are closely intertwined as programs move candidates through the stages of knowledge acquisition to application. The emphasis upon meeting the needs of diverse learners and the ability to integrate technology in ways that improve both teaching and learning are inherent to each of the six knowledge and skills areas and are evident in candidate dispositions. The six primary focal areas of knowledge, skills, and dispositions are applicable to initial and advanced candidates and are common to all programs (Exhibit C1.5 ULM KSD Chart):
Plan and Manage: Demonstrate the ability to effectively plan and prepare instruction to accommodate diverse learners and to efficiently organize and manage the learning environment to maximize learning and maintain desired behaviors.
Communicate and Deliver Content: Utilize appropriate pedagogy, technology, and effective communication to thoroughly develop learners' content knowledge and skills.
Enhance Learning: Enhance and facilitate learning for students with diverse learning needs through masterful delivery of standards-based instruction, content knowledge, effective communication and evaluation, appropriate technology (including adaptive/assistive), differentiated instruction, and accommodative strategies.
Evaluate: Systematically assess and evaluate teaching and learning, using multiple forms of formal and informal procedures, reflect, adjust, instruct accordingly, and reassess.
Accommodate and Collaborate: Accommodate for external influences, learning and performance differences, psychosocial needs, and other diversity factors. Collaborate to improve teaching and learning proficiencies.
Specialize: Increase professionalism by seeking continuous professional development and demonstrate proficiencies consistent with appropriate professional standards, principles, practices, and legal policies specific to specialization area(s).
Dispositions
Dispositions espoused by the ULM Learning Facilitator are the behaviors that exemplify the six areas of knowledge and skills upon which the unit focuses. Our dispositions communicate expectations for candidate professionalism that assure PK-12 students high quality instruction delivered with fairness and equity for all students (Exhibit C1.6 Dispositions).
Unit Assessment System
The conceptual framework serves as the foundation for Unit Assessment System. The signature assessments are designed to directly address the conceptual framework KSD's as reflected in data analyzed, described, and reported in Standard 2. Assessment data for the purpose of unit and program analysis are compiled at the following four identified transition points denoted as Portals that occur during the program for initial candidates: (I) Entry to Pre-Professional, (II) Admission to Professional Teacher Education, (III) Admission to Student Teaching/ Internship, and (IV) Graduation/Program Exit. Follow-up data is collected thereafter on program completers through employer surveys and state data. Some data, such as the entry requirements of ACT, High School Grade Point, Cumulative Grade Point, and the inclusion of Signature Assessments for core courses, are common to all programs, but each program has assessments that are selected for program-specific relevance. Advanced programs (Portals V-VIII) and doctoral programs (Portals IX-XII) are similarly structured and consecutively numbered to designate Program, Admission, Entry to Clinical Practice, and Exit from Clinical Practice, with sequenced documentation of proficiencies to progress through the programs. (Exhibit 2a2.1 Unit Assessment Portal Requirements)
Program standards guided the design, content, instructional methodology, and assessments of required courses for each program in the Assessment System. Course-specific Signature Assessments are based upon their capacity to reflect multiple candidate proficiencies and mastery of program and unit standards. Unit assessments share common elements such as Teacher Work Samples, Dispositions and the ULM Lesson Plan, but programs may have unique assessments and rubric addendums that assess SPA standards.
Candidate proficiencies are aligned with NCATE, state, unit, and program standards. Course signature assessment rubrics clearly indicate the connection between the candidate performance, and Knowledge, Skills and Dispositions (KSD's) espoused by the ULM Learning Facilitator. Matrices on all course syllabi display the interconnectedness of course objectives, KSD's, course assessments, NCATE and State standards, LCET, and program/professional standards.
The Comprehensive Unit Assessment System delineates program-specific candidate transition points, program and unit expectations, timelines, and responsibilities in the TaskStream electronic data system. Candidates can access TaskStream to view requirements and progress toward program completion. If a candidate needs additional professional development, the portals serve as an alert. Candidates submit multiple performance artifacts scored by multiple raters prior to progressing through each Portal. Standard 2 provides a more in-depth description.