College of Business & Social Sciences
Master of Business Administration
The MBA program at the University of Louisiana at Monroe is a two-year program accredited by AACSB-International. The MBA program schedule is flexible, offering afternoon and evening classes, allowing students to take classes that best fit their work schedules, and several elective classes are offered online.
You will have the option to apply for one of the 16 graduate assistantships available to MBA students to collaborate with professors in business research projects or to assist professors with teaching duties. Please contact us if you would like more information about the program.
The College is accredited by AACSB International (The Association to Advance Collegiate Schools of Business) at both the undergraduate and the graduate (MBA) level.
MBA in Hong Kong
Since 1979, the college has offered the MBA program in Hong Kong at Shue Yan University. ULM students can register for MBA classes offered at Shue Yan during summer and winter sessions. The classes are the same as those on the ULM campus and are taught by the same qualified professors.
It represents an incredible opportunity for a cultural exchange and a first look at one of the main global business hubs. For more information, please contact us directly or visit Shue Yan University's website.
About Monroe, Louisiana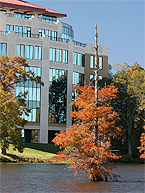 Welcome to the Twin Cities of Monroe and West Monroe, Louisiana. During your time here, you can experience some of the local history and flavor and see why we consider our Twin Cities a special place. Monroe is located along the Ouachita River, which was named one of the most beautiful rivers in the world by National Geographic.
Monroe has an average yearly temperature of 65 degrees Fahrenheit (19 Celsius) with a mild winter. It is the heartland for festivals, special events, tours and conventions. Take a look at our bustling city, our hometown, Monroe.

For more information about the area, check the following links:
http://www.monroe-westmonroe.org
http://www.ci.monroe.la.us/