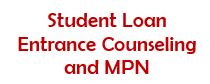 ULM Communicates Electronically
We correspond via your Warhawk email. 
Check Banner frequently for additional requirements that could delay your aid.
Important Dates                
Ongoing - Complete Your 2019-2020 FAFSA
March 14 - Spring B (2nd 8-weeks) courses begin
March 30 - Browse on the Bayou
April 8-12 - Student Employment Week (week of events)
April 11 - Student Employment Ceremony - 2 p.m.