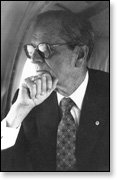 CLARKE M. WILLIAMS, for whom ULM's Student Success Center was named, was the founder and chairman of the board of directors of CenturyTel.
Now known as CenturyLink, it is one of the largest telephone companies in the United States and a Fortune 500 company. CenturyLink's corporate headquarters are located just a few miles north of the ULM campus.
Mr. Williams literally grew up in the telephone business. As a boy, he worked the switchboard in the living room of his parents Oak Ridge, La. home, and delivered his mother's handwritten bills on his bicycle to the company's 75 customers.
After serving his nation in World War II, he returned home and married, and his parents gave him the company as a wedding gift. He eventually grew what was then the Oak Ridge Telephone Company to a company listed in the Standard & Poor's 500 Index.
Mr. Williams was a true visionary, both as a businessman and a citizen. He was also a humble man, determined to build a business based on fairness, honesty, integrity, commitment to excellence, positive attitude, respect, faith and perseverance. A long-time mayor of his hometown of Oak Ridge, Mr. Williams believed in serving others.
During his lifetime, he received numerous civic awards, including the Medal of Honor presented by the National Society of the Daughters of the American Revolution. He was also named "Humanitarian" by the Arthritis Foundation, and received the Silver Beaver Award from the Boy Scouts of America.
In 2002, Mr. Williams passed away at the age of 80.
Mr. Williams built a strong, enduring legacy both in his personal life and as an exceptionally successful business leader. He made countless contributions to his community and to the telecommunications industry.
His values and principles will continue to live on through the many people he touched throughout his lifetime. This is especially true in the case of ULM's new student success center, which will directly impact hundreds of thousands of students, young and old, through the years ahead.
ULM is grateful to CenturyLink and is honored to have one of the most important buildings on its campus, the Clarke M. Williams Student Success Center, named after such a distinguished and accomplished individual.