2022-23 Summer Reading Program
The Summer Reading Program is a collection of events surrounding a common theme to introduce you to the ULM learning community. Read the selected essays over the summer as your first university assignment and be prepared to discuss it in freshman English and University Seminar (UNIV 1001).
The program provides you with:
• Your first common intellectual experience
• An introduction to the university's academic life
• A sense of unity among students, faculty, staff and the community
---
This I Believe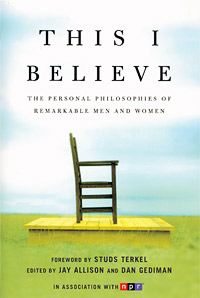 This year's selection is a collection of essays from "This I Believe," an international organization engaging people in writing and sharing essays describing the core values that guide their daily lives. Over 100,000 of these essays, written by people from all walks of life, are archived on the NPR website, heard on public radio, chronicled through NPR's books, and featured in weekly podcasts. The project is based on the popular 1950s radio series of the name hosted by Edward R. Murrow.
The Assignment
New ULM students are expected to read the selected essays from the NPR "This I Believe" website (http://thisibelieve.org) and be prepared to discuss them in freshman English and University Seminar (UNIV 1001).
The list of 25 essays is required reading for the 2022 incoming freshman class. You may access these essays by going to the web address noted or by going to the NPR website and entering the number of the essay. You may choose to listen to the podcast instead of reading the selection.