The Office of the Executive Vice President has the responsibility of several key non-academic areas.
The ULM Alumni Association helps over 64,000 alumni stay connected to ULM and support their university and the the ULM Foundation manages various programs, including scholarships, professorship and chair funds, alumni, fund-raising and development operations, college and departmental support, and other university-related programs.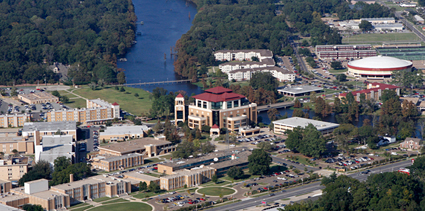 The Office of Auxiliary Enterprise has responsibilities for finance, facilities, personnel, operations and services related to contracted and outsourced services such as On-Campus Housing, Campus Dining, the University Bookstore, Campus Vending, Warhawk I.D. Services including the reporting of customer service issues, vending maintenance and vending refunds.
ULM's Computing Center provides all technology, computing services and related support for the campus, including email, BANNER, web and other computing services. In addition, the Computing Center provides hardware support for computer and printers. The Telephone Office handles all telecommunication functions on campus.
The Office of Enrollment Management is responsible for recruitment and admissions of students, financial aid, the Office of the Registrar, and the Clarke M. Williams Student Success Center.
Other areas under the auspices of the Executive Vice President include University Planning and Analysis, and the University Police.
Please feel free to contact our office if you have questions or need any information about any of these ULM departments.