College of Health Sciences
Medical Laboratory Science
What does a Medical Laboratory Scientist do?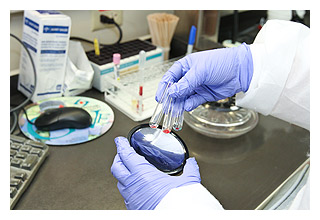 A Medical Laboratory Scientist performs the full range of laboratory tests from routine to the most complex with little or no supervision.
As medical investigators, they are responsible for the operation of an array of complex electronic equipment, computers, and precision instruments costing millions of dollars. These individuals train to work in the five major areas of the laboratory:
Immunohematology
Chemistry
Hematology
Immunology
Microbiology
A Medical Laboratory Scientist may choose to work in one of the specialty areas or to work as a generalist covering all areas. Some medical laboratory scientists prefer to work "at the bench" and directly perform clinical analyses. Others combine skills and interests to create a career suited to their particular goals.
Medical Laboratory Scientists may also pursue diverse career opportunities. Approximately two-thirds work in hospital laboratories. Others are employed in physicians' office laboratories, clinics, commercial firms, research facilities, forensic laboratories, the Armed Forces, the Peace Corps, public health centers, veterinary clinics, sales, industry, and education.