Lifestyle
See how interesting college can be when you're a part of Army ROTC. You are a college student first and foremost, just like the rest of the student body, but there's a key difference: you'll have even more opportunities to succeed.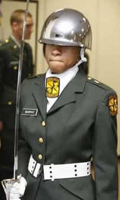 These opportunities include Field Training Exercises (FTXs) in the spring and fall where cadets build their teamwork and leadership skills. Cadets also participate in physical training (PT) at least 3 days a week. The PT program is designed for cadets to score the maximum points on the Army's Physical Fitness Test. We run, climb, do pull-ups, sit-ups, push-ups and any other exercise you can name.
Events
In Army ROTC, it's not all classroom and field training. There are many opportunities for you to get to know your fellow cadets better and increase your skills in a variety of areas. Learn more about these events and activities below.
Ranger Challenge
Ranger Challenge is an opportunity for schools to compete with each other completing military tasks at the US Army Ranger School. Ranger Challenge takes place in the fall semester and is a grueling, four day mental and physical event. Prior to the competition cadets spend several hours training for this event. The camaraderie, teamwork, and leadership experienced in Ranger Challenge remains with you through out your life. Events include: Army Physical Fitness Test, 10k road march, basic rifle marksmanship, obstacle course, land navigation, weapons assembly/disassembly, rope bridge, hand grenades and more.
Commissioning Ceremony
Each semester several cadets are commissioned into the United States Army during ceremonies held on campus. Families, friends, and other distinguished guests take part in the commissioning ceremony. At the ceremony cadets take the oath of commissioning and are pinned with their gold Second Lieutenant bars.

University events
Cadets participate in many university events: graduation, football games, basketball games, etc. During the events we provide the color guard and the cannon team for the football games. During the football games the cannon team fires artillery and does pushups for points scored by the Warhawks.
Military Ball
Each semester we have a military ball. Cadets are allowed to bring dates and family members. This is usually the first time cadets are exposed to some military customs and courtesies. The ball is attended by all cadets, staff, and a military guest speaker.