Program Strengths
The general business program at ULM is grounded in a core of courses including principles of management, marketing, accounting, economics, computer information systems, and finance.
We strive to keep class size relatively small, ensuring each student has the opportunity to seek and receive personal attention from professors.
Accreditation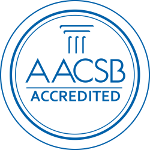 ULM's Finance program is accredited by AACSB International, The Association to Advance Collegiate Schools of Business.
Evening and Online Degrees
Students majoring in General Business are able to complete their degree program entirely at night or online. This makes General Business particularly attractive to part-time students who are seeking to further their education while working full time.