Brittany Layne Stringer
Department of Communications
"Communicating Health: Childhood Obesity and Elementary Health Education"
Mentor, Dr. Mara Loeb
Vanelis Rivera
Department of English
"Lacing Up Sexuality and Unlacing Independence: Moll's Wearing of a Codpiece and Breeches in The Roaring Girl"
Mentor, Dr. LaRue Sloan.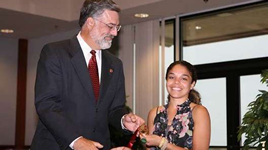 President Cofer awards Vanelis Rivera 1st place
for her research paper on Moll Frith.

Second place: Lauren Fix
Department of English. 
"Until Death Do Us Part: A Study of Marriage in The Tragedy of Othello." 
Mentor, Dr. LaRue Sloan.

Third place: Tara Kester
Department of History. 
"The Aftermath of the 1967 Newark Riots: Not a Legacy, Just a Continuation." 
Mentors, Dr. Monica Bontty and Dr. Jeffrey Anderson.