Published September 26, 2013
The 2014 Miss University of Louisiana at Monroe Pageant is scheduled for 7 p.m., Tuesday, Oct. 1, in Brown Auditorium, on the ULM campus.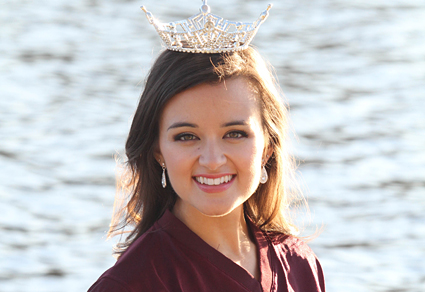 Faculty, staff and students may purchase one $2 ticket with their ID as well as purchase additional tickets for $8 each at the La Capitol Federal Credit Union branch on the ULM campus.
Tickets for the general public are $8 and can be purchased at the ULM La Capitol branch.
Jaden Leach, Miss Louisiana 2013, will co-emcee the event with Amy Matherne, Miss ULM 2013.
The Miss ULM Pageant—which was honored with an award from the Miss Louisiana Organization for providing more scholarship money than any other pageant in Louisiana— is a preliminary to the Miss Louisiana Pageant, sponsored by ULM's Campus Activities Board.
The competitive scholarship program emphasizes physical fitness, talent, public speaking, and academics.
Contestants must demonstrate poise, personality, intelligence, charm, and beauty during the pageant, and must showcase a trained talent in a 90-second performance.
Each contestant must be a full-time ULM student and also adhere to grade point average requirements in order to compete in the pageant.
The 2014 Miss ULM Contestants are:
Makeva Armant, a senior Modern Languages major from New Orleans;
Destiny Brown, a freshman pre-dental hygiene major from West Monroe;
Ashley Camp, a sophomore biology major from Calhoun;
Paige Davis, a senior secondary education major from Monroe;
Victoria Eymard, a sophomore kinesiology major from Slidell;
Lauren Ford, a junior pre-pharmacy major from Monroe;
Kaitlynn Frey, a freshman elementary education major from Fort Wayne, Ind.;
Taylor Herrington, a freshman pre-pharmacy major from Delhi;
Jo' Hilliard, a sophomore pre-nursing major from Baton Rouge;
Keana Howell, a sophomore pre-nursing major from Alexandria;
Ellie Jackson, a freshman biology major from Monroe;
Candice Johnson, a senior kinesiology major from Keller, Texas;
Karli McMahan, a sophomore elementary education major from Harrison, Ohio;
Sarah Mouk, a sophomore health studies major from West Monroe;
Kiersten Robertson, a freshman pre-dental hygiene major from Leesville;
Sarah Torregrossa, a sophomore mass communications major from West Monroe; and
Mary Catherine Wilkerson, a junior mass communications major from Natchez, Miss.
Any remaining tickets will be available at the door, starting at 5 p.m., the night of the event. Doors open at 6 p.m.
Please note, last year's pageant sold out quickly. Those interested are encouraged to buy tickets early.
For more information, call the ULM Office of Student Life and Leadership at 318-342-5287.