Published January 13, 2016
Beta Alpha Psi and Beta Gamma Sigma, two of ULM's College of Business and Social Sciences honor societies, have been recognized among the best honor societies in the nation.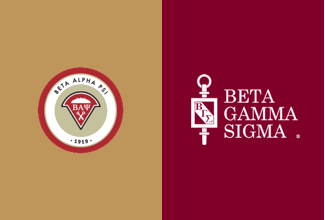 Beta Alpha Psi
The ULM Eta Sigma Chapter of Beta Alpha Psi has been recognized internationally as a Superior Chapter. Recognition as a Superior Chapter indicates the membership has excelled in the areas of academics, professionalism, and leadership. This recognition represents a significant accomplishment for the organization and comes with a financial award from the KPMG Foundation. 
Founded in 1919, Beta Alpha Psi is an honor organization for financial information students and professionals. There are over 300 chapters on college and university campuses with over 300,000 members initiated since Beta Alpha Psi's formation.
Beta Gamma Sigma
Beta Gamma Sigma, the honor society that is only found in universities whose business programs are accredited by AACSB-International—the premier accreditation agency in the world for business programs—also received international recognition recently by being designated as an "Honor Roll" Chapter, the highest honor possible. As an outstanding chapter, the international office of Beta Gamma Sigma provides a scholarship to a student member of Beta Gamma Sigma to attend the international meeting. 
Beta Gamma Sigma has established more than 500 collegiate chapters in over 22 countries and territories worldwide, and has inducted more than 750,000 outstanding scholars into membership since its inception in 1913. Members currently reside in all 50 United States and more than 160 countries. They serve in corporate, government, non-profit, educational, and other management positions at every level of responsibility.
"These recognitions would not have been possible without the outstanding efforts of our student and faculty members," said Dean Ron Berry. "However, the efforts of Mrs. Patti Roshto, faculty advisor to Beta Alpha Psi, and secretary to Beta Gamma Sigma, have had a significant impact on both organizations and their continued success."
For more information about Beta Alpha Psi, visit bap.org. 
For more information about Beta Gamma Sigma, visit betagammasigma.org.