Published March 2, 2016
MONROE, La. — The University of Louisiana Monroe has opened a new Autism Center (AC-ULM) thanks to a grant from the Living Well Foundation.
The AC-ULM is a cooperative program between the Speech-Language Pathology and Occupational Therapy Programs at ULM, both of which have been part of the College of Health and Pharmaceutical Sciences for over 40 years.
The new Center opens its doors one month in advance of World Autism Awareness Day ("Light It Up Blue"), which is scheduled for April 2, 2016.
"I am extremely grateful for the support from the ULM administration, faculty, and students as well as the Board of Directors for the Living Well Foundation to address a need for these services in this region and continue the mission of ULM," said Dr. David Irwin, Professor and Director of the Speech-Language Pathology and the AC-ULM programs at ULM.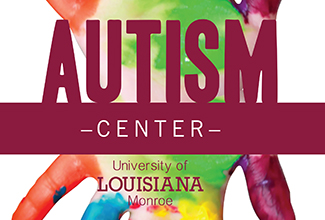 The Living Well Foundation is a public non-profit organization dedicated to enhancing the health, wellness, and quality of life in northeast Louisiana. Founded in 2007, the organization serves residents of Caldwell, Franklin, Jackson, Lincoln, Morehouse, Ouachita, Richland and Union parishes. The organization awarded ULM a one-year $14,000 startup grant, which comes with the possibility of renewal. 
According to its mission statement, the AC-ULM seeks "to serve as a comprehensive resource that will enhance the quality of life for individuals with Autism Spectrum Disorder (ASD)."
ASD is typically found in children between the ages of 1 and 18 and is characterized by deficits in social communication and social interaction, and the presence of restricted, repetitive behaviors. According to a survey conducted in 2010 by the Centers for Disease Control and Prevention (CDC), the rate of ASD was 1 in 68 children, demonstrating an increase in ASD across the nation. Boys are four to five times more at risk of being diagnosed with ASD than girls.
Many parents feel unprepared for the challenges that come with raising a child diagnosed with ASD. According to the National Institute of Mental Health, while it is common for adolescents in their teenage years to become aware of other people and their relationships with them, teens with ASD face far more acute and painful complications related to the acquisition of social awareness and social skills. For these reasons, many treatment options, including social services and programs, are in place to provide vital care and education to help enhance the lives of both individuals with ASD and their families.
And this is precisely what the AC-ULM seeks to provide—high-quality education, training and services for children and adults in need. These services include, but are not limited to: comprehensive evaluations conducted by licensed and certified speech-language pathologists and occupational therapists; consultative and direct services to a variety of agencies/organizations on the specialized needs of individuals with ASD; classes or seminars for speech-language pathologists, education and medical professionals, paraprofessionals, students and parents including the northeast Louisiana region and beyond.
"The AC-ULM will impact this region by providing high quality services to the residents of northeast Louisiana, supporting professionals and parents needing education and training regarding evidence-based evaluation and treatment methods, and enhance the education/training of students while at ULM which they can use in future employment," said Dr. Irwin.
The regional impact is already evidenced through the AC-ULM's growing list of partners throughout the state. The Center has established partnerships with local community organizations, agencies, and businesses, such as Families Helping Families of Northeast Louisiana, United Way of Northeast Louisiana, Chamber of Commerce in all parishes served by the Living Well Foundation, the Department of Health and Hospitals, clinics, public and private hospitals, schools, universities, among many others.
Dr. Irwin indicated that he anticipates beginning evaluations in early April. Referrals are being accepted at this time. 
Those interested in evaluations, seminars/classes or consultations will find more information, including information about fees, at the Center's website (ulm.edu/autismcenter).
For further information, please contact Dr. David Irwin, CCC-SLP, Professor and Director of the AC-ULM at 318-342-3190 or irwin@ulm.edu.