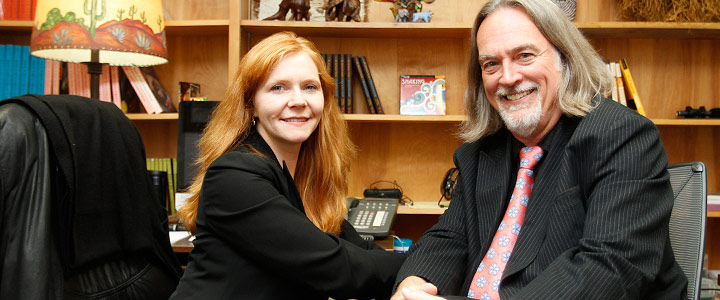 Dr. Catherine Keeney & Dr. Brad Keeney, School of Health Professions, College of Health and Pharmaceutical Sciences.
Doctorate Degree
Doctorate of Philosophy in Marriage and Family Therapy (Ph.D.)
This 60 credit hour program with a non-clinical concentration in Creative Systemic Studies degree prepares graduates for careers as scholars, teachers, and researchers.
This program integrates systemically oriented philosophy and theory and encourages a trans-disciplinary study of therapy, counseling, coaching, consultation, teaching, social service learning, and other professions concerned with experiential transformation.
This unique doctoral concentration is designed for master level professionals from a wide array of disciplines who desire a deeper study of the contexts that advance the creative practices of the transformative arts.
Admission Requirements
Admission Requirements Students admitted to the program will have successfully completed a master degree program from a regionally accredited institution, or the equivalent. All applicants must submit:
A resume
Three (3) letters of recommendation from professional colleagues who are familiar with his/her character, work, and therapy skills (where applicable)
A scholarly writing sample of 8-10 pages. Previous work such as an academic paper or report may be submitted
A professional goal statement: 1-3 page typed, double-spaced statement of professional goals and how the Ph.D. will lead to the fulfillment of the goals
For International Students, a TOEFL score of 61 or above
For more information about the curriculum for this program please visit ULM's Graduate Catalog.