Association for Computing Machinery
ACM is an educational and scientific society uniting the world's computing educators, researchers and professionals to inspire dialogue, share resources and address the field's challenges. IEEE is the world's largest professional association advancing innovation and technological excellence for the benefit of humanity.
The ACM/IEEE student chapter at ULM provides opportunities for students to interact with their peers and faculty and explore the breath and depth of the field of computer science through workshops, guest speakers, programming contests and social activities.
For more information about joining the ACM, contact Kim Taylor, chapter advisor.
Upsilon Pi Epsilon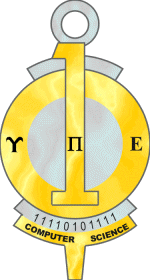 The mission of UPE is to recognize academic excellence at both the undergraduate and graduate levels in the Computing and Information Disciplines. UPE is a member of the Association of College Honor Societies (ACHS). Requirements for membership may be found here.