Published January 6, 2014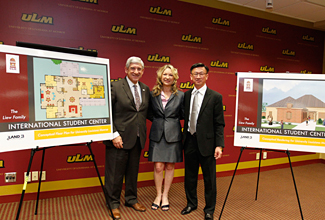 When Eric Liew came to the United States from Kuala Lumpur, Malaysia, he never dreamed that 30 years later, he would be standing in front of a room of distinguished guests and community leaders announcing a personal donation of $1 million to his alma mater, the University of Louisiana at Monroe.
Liew made the announcement accompanied by his wife Linda, and his parents and two sisters who were visiting from Malaysia.
Liew—who graduated from ULM in 1993 with a Bachelor of Business Administration in economics—announced that he will supply $1 million to ULM for the building of an international student center. 
The center will serve as a base camp for arriving international students, many of which arrive with no friends or connections in the area. 
The center will house students until they are placed into campus housing or find an apartment. It will also be a place for students to socialize. 
Liew said, "When I came here…I bought milk and hot dogs. I got back to my dorm and there was no refrigerator…I want the international students to come here and have a place; a one stop shop." 
The center will include a kitchen, meeting rooms, short-term lodging, and socializing space. 
"I know we can do better at encouraging international students to come to ULM," Liew said. "This center will help them as they transition to life in a new country." 
The space has been touted as something that has been needed for quite some time. 
"This is something that Eric and I have talked about since I arrived at ULM," said ULM President Dr. Nick J. Bruno. "This center will be a place where our international students can feel at home." 
Construction on the facility is set to begin this year.
Architectural drawings of the International Student Center are available for download as PDFs.
About Eric Liew:
Liew is the CEO and majority stockholder of the Monroe-based AOSS Medical Supply, Inc. According to Liew, AOSS is the largest privately-owned medical supply company in Louisiana.
AOSS has offices in Salt Lake City, Utah; and Honolulu, Hawaii, with plans to expand to Pennsylvania or New Jersey in the coming months.
Liew recently completed his first term on the Board of Trustees for the Louisiana Public Facilities Authority. 
Architectural drawings courtesy Land 3 Architects, Monroe, LA