Published January 16, 2014
A welcoming crowd gathered in the Anna Gray Noe Alumni Center on the University of Louisiana at Monroe campus to welcome the university's largest ever Korean cohort.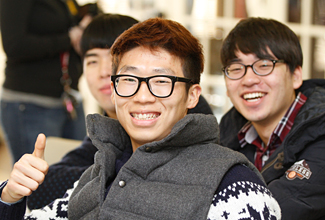 The 45 students—who hail from Hanbat University, Geumgang University, and Chungbook University in Korea—will take part in an intensive seven-week English language and internship program.
ULM President Dr. Nick J. Bruno encouraged the students to participate in as much as they could to get the complete university experience.
 "Get involved; attend events that are on campus, including our cultural events and performances," he said.
"Go out and see a basketball game or baseball game to maximize your experience in the United States so that when you return home, you will go back with a great knowledge of what goes on at an American university from both an academic and social perspective."
During the reception, Korean students volunteered to speak about their experience so far at ULM.
The students have each chosen an American name as a way to fully immerse themselves in the experience.
"Peter," a Hanbat University student, asked the attendees for help along the way as he and his classmates adjust to the American lifestyle.
"Although we have different cultures and language, ULM gives us the opportunity to combine our cultures together," he said.
"It has been almost 10 days since our arrival and I am sure as time passes we will learn more about U.S. culture and food."
Throughout their stay, students will visit various landmarks and historical sites in North Louisiana, engage with their ULM "conversation partners," and experience American business techniques through concentrated internships.
For more information about ULM international exchange programs, visit ulm.edu/education/internationalstudents.html