Published January 21, 2014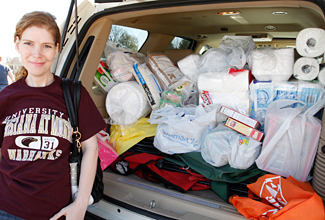 Volunteers from the University of Louisiana at Monroe and Louisiana Delta Community College once again collaborated for the annual "MLK Day of Service" project.
The two institutions assisted the United League of Churches organization by collecting and delivering items to the Community Soup Kitchen in Monroe.
Dr. Pamela Saulsberry, chair of ULM's diversity committee said the Community Soup Kitchen serves hot meals three days per week to the homeless, community seniors who live alone and cannot stand long enough to cook, and those who have a disability or are physically challenged.
The facility also provides clothing and food bags.
"Our MLK Day of Service project for this year is to again assist the United League of Churches organization by helping to stock its shelves for 2014 with items needed to continue their mission," said Saulsberry.
"According to the director, the items collected and donated last year from this effort allowed them to assist needy individuals for several months."
Students, faculty, and staff from both institutions, as well as community members and representatives from KEDM Public Radio, helped collect, package, and deliver all donated items.