Published January 24, 2014
Officials from the University of Louisiana at Monroe and the College of Arts, Education and Sciences DREAM office—alongside officials from JPMorgan Chase and Red Stick Robotics—announced an innovative new Science, Technology, Engineering and Math (STEM) initiative poised to have North Louisiana high school students lining up for physical sciences and geometry courses.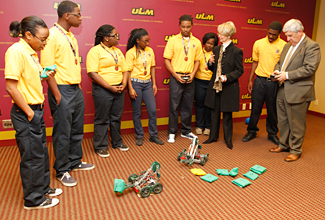 "This grant provides opportunities for students in North Louisiana exposure to robotics and STEM education which will contribute to the development of our future workforce," said ULM President Dr. Nick J. Bruno.
"This also provides evidence that grantors understand and appreciate that ULM's College of Arts, Education and Sciences is a leader in teacher development.  It is an exciting program for ULM and our region."
The Chase High School Robotics Program—which has been made possible by a $64,000  grant from JP Morgan Chase— introduces area 9th and 10th grade high school students to the knowledge, concepts and skills that are necessary to understanding the intelligent information-based technology of the future.
Robotics activities engage teams of students in hands-on strategic problem solving that integrate STEM with applied mathematics, physics, computer programming, and the engineering process.
Susan Hoffmann, JPMorgan Chase Northeast Louisiana Market President said, "As one of the largest private employers in North Louisiana, we know firsthand that the jobs of the future require solid skills in Science, Technology, Engineering and Math.  We're so proud to support ULM and Red Stick Robotics to help enhance students' learning of these critical skills."
As part of the curriculum, students will engage in one-week modules geared toward specific mathematics and science concepts.

The modules may work together as a multi-week unit or serve as a one-week capstone experience for units related to individual concepts.
Each Module includes a classroom kit with instructional materials, on-demand support, and robotics hardware for 25 students, to work in teams of two with their own "VEX" robot that can be programmed to demonstrate and test specific mathematical and physical science principles.
Dr. Lynn Clark, Director of DREAM, developed the program with faculty from the College of Arts, Education and Sciences and partner Red Stick Robotics.
"The primary goal of the program is to increase the number of students who have the access, aptitude and interest to pursue STEM careers in Northeast Louisiana," said Clark.
"The Chase Foundation has provided critical start-up funds that will literally put a robot in the hands of every student in participating schools."
Clark explained that by integrating the one-week Robotics modules into the regular Math and Science curriculum, every 9th and 10th grade student will have the opportunity to develop the knowledge, concepts, and skills that are necessary to understanding the intelligent information-based technology of the future.
Participating teachers will receive 15 hours of paid professional development prior to the fall 2014 classroom implementation date and on-demand support during implementation of the units.
Select high schools in Monroe City Schools, Ouachita Parish Schools, and East Carroll Parish Schools will pilot the program in its first year.
Photo of Susan Hoffmann courtesy JPMorgan Chase