Published Janaury 27, 2014
Dr. John W. Sutherlin, associate professor of political science and co-director the social science research lab (SSRL) at the University of Louisiana at Monroe, recently attended the Delta Leadership Institute's (DLI) inaugural four-day executive education training at Harvard University's John F. Kennedy School of Government in Cambridge, Mass.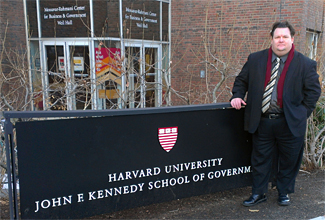 The program, designed and led by Harvard faculty, focused on cutting edge leadership principles in the U.S. DLI is a three-entity collaboration with support from the entire eight-state region: The University of Mississippi's McLean Institute for Public Service and Community Engagement, Arkansas State University's Delta Center for Economic Development and the University of Louisiana at Monroe's Social Science Research Lab.
"This was arguably the most intense training I have experienced since graduate school," said Sutherlin.
"It felt a bit odd to be a student again, but the effort was worth it because of the skills and contacts I made. I think the SSRL will be able to continue working with communities throughout the Delta and assist in a broader manner. This means more opportunities for faculty to do research and students to have internships."
Sutherlin joined the group as part of the Louisiana cohort for the Delta Regional Authority (DRA).
The Delta Regional Authority is a federal-state partnership that is congressionally mandated to help create jobs, build communities, and improve lives in the 252 counties and parishes of the Delta.
Through twelve cycles of federal investment, the DRA is helping to create and retain more than 41,000 jobs and has leveraged $2.7 billion in other public and private investment.
According to the Delta Leadership Institute, since 2005, the Executive Academy has provided educational experiences for committed community members that enhance their leadership skills and abilities to create solutions to the region's challenges.
Graduates of the academy become members of the Delta Leadership Network—taking their new knowledge and understanding of issues home to better serve their communities and develop new ways of thinking that foster regional collaborations and partnerships.
"Developing cohesive leadership in our communities is vital to moving the Delta region forward," said DRA Federal Co-Chairman Chris Masingill.
"As our Delta Leadership Network grows in both quantity and quality, we must continue to engage these skilled professionals in understanding how to exercise leadership."
Photo of John Sutherlin courtesy