Published January 29, 2014
Dr. Shalanda Stanley, assistant professor of curriculum, instruction, and leadership at the University of Louisiana at Monroe, recently sold her novel ,"Drowning is Inevitable" to Knopf Books for Young Readers—an imprint of Random House Kids.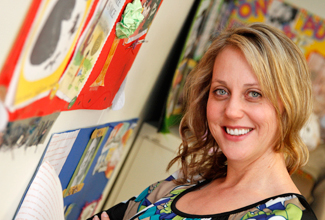 The book is a contemporary young adult novel set in St. Francisville, known for its abundance of Live Oak trees and festivals.
The story is narrated by Olivia, who is near her eighteenth birthday and is about to outlive her mother, who took her own life by drowning the day she turned eighteen, when Olivia was only three days old.
Olivia is expected to follow in her mother's footsteps, resulting in the town putting her on suicide watch from a very early age.
Stanley's inspiration for the novel occurred when touring a graveyard in St. Francisville.
"There was a tombstone from the 1800s and the dates indicated that a girl died on her eighteenth birthday," she said. "I thought the odds of that being coincidental were pretty rare and that is how the story took shape."
Stanley wrote the novel while writing her dissertation, and believes that she would not have finished the book if she had not been working on the dissertation.
She said, "I made a deal with myself. I would work on the dissertation for an hour and then reward myself by working on the book for an hour."
The book will debut in fall 2015 and will be available online, in bookstores nationwide, and in e-book format. "I am thrilled that the book sold and I cannot wait to share it with readers. This is a lifelong dream come true," said Stanley.

About Dr. Shalanda Stanley:
Stanley received her Bachelor's degree in English from Florida State University, focusing on creative writing.
She was awarded with a Master's in Education from ULM in 2008, after teaching for ten years in Ouachita Parish. In December 2012, she received a Ph.D. in Curriculum and Instruction from Louisiana State University.