Published January 29, 2014
The University of Louisiana at Monroe's National Champion Water Ski Team was named National Collegiate Water Ski Association (NCWSA) Team of the Year for 2013 during the annual USA Water Ski awards banquet, held in Haines City, Fla.
The reception was held as part of the kickoff event for USA Water Ski's 75th anniversary celebration.

"The members of the ULM Water Ski Team are deeply honored to have been named NCWSA's Collegiate Water Ski Team of the Year," said Treina Landrum, coach of the ULM Water Ski Team.
"Fall 2013 was especially memorable for us and we are looking forward to another strong season of skiing. We remain thankful for the support of ULM students, the ULM administration and all the ULM family in our community. Go Warhawks!"
Martin Bartalsky (BBA '11) and Will Oliver (B.S. '13) were in Florida to accept the award.

Former ULM skiers were also honored during the ceremonies.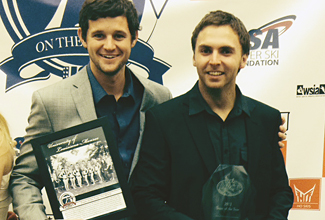 Regina Jaquess, (Pharm.D. '09) was named USA Water Ski's overall female athlete of the year for the second consecutive year, and seventh time total.
Jaquess is also a World Champion gold medalist.

Alum Alex Lauretano (BBA '12) and former ULM student Adam Pickos joined Jaquess as honored members of the U.S. Elite Water Ski Team, which won the overall team gold medal at the 33rd Water Ski World Championships.
About the team:
The ULM Water Ski Team won its 25th National Championship in October, 2013, adding to its title as the most decorated collegiate team in the nation.

The ULM Water Ski Team competes in the National Collegiate Water Ski Association South Central Region. Members of the 2013 ULM Water Ski Team are:
Women's Team: Jenny Benjamin of London, England; Eleanor Benjamin of London, England; Emilia Hoikkanen of Finland; Carli Guyer of Pierson, Florida; Maddison McCammon of Clermont, Florida; and Janice Stevens of Morrisburg, Ontario, Canada.

Men's Team: Jake Bridges of Ireland; Siarhei Bushyn of Minsk, Belarus; James Earl of Solihul, England; Claudio Koestenberger of Sattendorf, Austria; Martin Kolman of Prague, Czech Republic; Will Oliver of Hull, England; Nikita Papkul of Novopolotsk, Belarus; Tyler Scott of Covington, Louisiana; and Michael Stevenson of Gilbert, Arizona.
For information about the ULM Water Ski Team, contact Landrum at 318-342-5313 or landrum@ulm.edu or visit the team's web site at www.ulmwaterski.com
Photo of Will Oliver and Martin Bartalsky courtesy