Published January 31, 2014
The School of Visual and Performing Arts at the University of Louisiana at Monroe will present a master class and performance by the Sotto Voce Tuba Quartet beginning at 4 p.m., Monday, Feb. 10, in the Emy-Lou Biedenharn Recital Hall.
The master class will begin at 4 p.m. and is free and open to the public.
The quartet will also host an evening performance in Emy-Lou Biedenharn Recital Hall at 7:30 pm. Cost to attend is $5. Tickets can be obtained online at ulmtickets.com
According to their website, the highly acclaimed, internationally recognized Sotto Voce Quartet is America's premier professional quartet of its kind. The quartet enthusiastically challenges preconceived notions about what tubas can do by composing, arranging, and commissioning virtuosic new works that highlight the diversity of their ensemble.
ULM students, faculty, and staff receive one free ticket with a valid ULM ID.
For more information on this performance, contact the ULM School of Visual and Performing Arts Box Office at 318-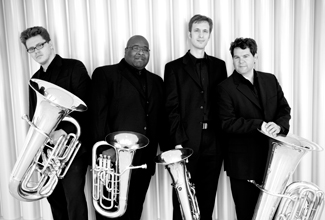 342-1414.