Published February 05, 2014
The popular University of Louisiana at Monroe Guitar Festival will take place Feb. 11-15 on the ULM campus. The community is encouraged to attend and all events are free and open to the public.
Events are as follows:
At 7:30 p.m., on Tuesday, Feb. 11, in Brown Auditorium, the Louisiana Community Guitar Orchestra event will take place. Participants are asked to bring their guitars and join in with dozens of guitar players of all ages and ability levels as they make music together in celebration of the opening of the 2014 ULM Guitar Festival. 
All are welcome and no experience on the guitar is necessary. Guitars will be available for those who do not have one.
At 7:30 p.m., on Wednesday, Feb. 12, in the Emy-Lou Biedenharn Recital Hall, the ULM guitar majors and the ULM Guitar Ensemble will join guitar students from across the region for a special concert.
Cain Budds and Clifford Hines will perform in a joint concert, beginning at 7:30 p.m.,Thursday, Feb. 13, in Emy-Lou Biedenharn Recital Hall. The first half of the concert will feature Ruston-based musician Cain Budds on classical guitar. The second half of the concert will feature Clifford Hines, a young guitarist based in New Orleans.
On Friday, Feb. 14, in Emy-Lou Biedenharn Recital Hall, Stan Smith and Dan Sumner will perform at 7:30 p.m. Smith is a master guitarist and a venerated educator. Sumner and other musical guests will join him in this concert.
The culmination of the guitar festival will take place beginning at 7:30 p.m.,Saturday, Feb. 15, in Emy-Lou Biedenharn Recital Hall. B.G. McPike and Solly burton make their ULM Guitar Festival debut with the feature concert of the 2014 festival. This dynamic acoustic duo blends and bridges multiple styles of music that span generations of song.
McPike is a guitarist who has taken the time to cultivate and maintain a professional caliber classical guitar technique without abandoning the popular, jazz, and folk styles with which he grew as a youngster, and the way which he continues to grow today.
He holds degrees in music from Butler University and Indiana University, including a Doctor of Music in Guitar Performance and Literature with a minor in Jazz Studies.
Burton,winner and current Champion of the 2013 Tennessee State Mandolin and Flatpick Guitar championships, became one of the all-time great mandolin players by age 21. By age 12, he had performed on stage with Ricky Skaggs.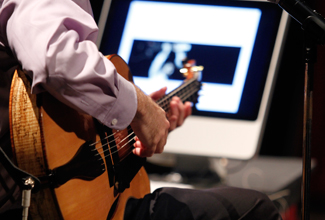 While his roots are in bluegrass and folk, Burton is an avid fan of the great Jethro Burns, whose work has inspired him to explore the music of "The American Songbook."
In 2009, he was featured on NPR's "From the Top," and he received honorable mention recognition from cellist Yo-Yo Ma on NPR radio's broadcast of the winners of the renowned cellist's Indaba music competition.