Published February 17, 2014
The School of Humanities and the School of Visual and Performing Arts (VAPA) at the University of Louisiana at Monroe, will jointly present "Beatlemania" through a series of events and performances beginning Feb. 18.
The events mark the 50th Anniversary of the Beatles' appearance on the Ed Sullivan Show and the release of their ground-breaking film, "A Hard Day's Night."
Special guests include author Jude Southerland Kessler, author of a nine volume series titled "The John Lennon Series," and ULM alum and printmaking instructor Enoch Doyle Jeter. Jeter illustrated the third volume in Kessler's series titled, "She Loves You."
Events are as follows:
On Tuesday, Feb. 18, VAPA and the ULM Film Society present the film "A Hard Day's Night," at 6:30 p.m., in Stubbs Hall, Room 100, on the ULM campus. This event is free and open to the public.
From 5-8 p.m. on Thursday, Feb. 20, VAPA will present an artist exhibit and author book signing and reception in ULM's Bry Art Gallery. Author Jude Southerland Kessler and Lithographer Enoch Doyle Jeter will be in attendance, signing copies of "She Loves You." This event is free and open to the public. For book information, visit www.johnlennonseries.com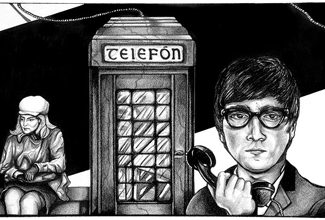 Dr. Derle Long, director of ULM VAPA, will conduct the ULM Wind Ensemble in the performance of "British Invasion—Part 2," at 7:30 p.m., in ULM's Brown Auditorium, on Wednesday, Feb. 26. For tickets, visit www.ulmtickets.com
Beatlemania culminates with the "Beer and Bards" poetry reading, sponsored by ULM creative writing students and faculty. The event begins at 7 p.m., Thursday, Feb. 27, at Enoch's Irish Pub, located at 507 Louisville Avenue, in Monroe.
Patrons must be at least 18 years old, and present a valid ID to enter. This event is free to attend.
Photo Courtesy Doyle Jeter