Published March 10, 2014
The work of University of Louisiana at Monroe Professor of art, Gary Ratcliff, was recently featured in an exhibition hosted by Northwestern State University's (NSU) Department of Fine and Graphic Art. The show was a retrospective, which highlighted ceramic pieces from different stages throughout Ratcliff's career.
Incorporated in the display were 37 ceramic works, as well as one of Ratcliff's undergraduate paintings.
When asked about his work, Ratcliff replied that it all "Got started when I just happened to pass by the ceramics room as an undergraduate in college and saw the instructor giving a demonstration."
"It was the first time I had ever seen someone using the potter's wheel. I was probably a junior at the time and painting was then my concentration, but I ended up borrowing some clay from a friend and tried out the wheel myself."
From there, Ratcliff's talent blossomed and he went on to obtain a Bachelor of Science in ceramics from Greenville College in Illinois and then a Master of Fine Arts in ceramics from East Texas State University.
Ratcliff works primarily in stoneware with a focus on functional pieces, or functional pieces with sculptural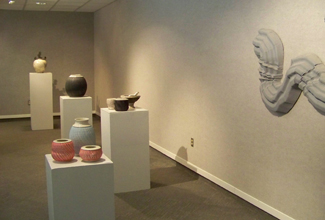 elements. He also likes to do work in Raku pottery.
"My inspiration can be anything I see or think about in the process of working," he said. "I don't necessarily look at a lot of other ceramists' work. I tend to be more introspective and introverted in terms of ideas and styles."
Ratcliff has taught at ULM for over 37 years.