Published March 17, 2014
The University of Louisiana at Monroe School of Visual and Performing Arts (VAPA) announced Steven Sondheim's "Into the Woods" as its spring musical production, last October. Tickets for the show are now on sale for a four-day run, April 3-6, in ULM's Brown Auditorium.
Show times are as follows:
Thursday, April 3; Friday, April 4; and Saturday, April 5: All shows at 7:30 p.m.
Sunday, April 6: Matinee at 2 p.m.
ULM students receive one free ticket with a valid ULM ID. Each additional student ticket is $5. ULM faculty and staff tickets are $5 each with a valid ULM ID. General admission tickets are $15.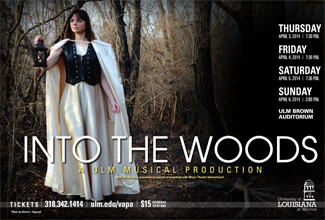 The musical—based on a book by James Lapine—intertwines the plots of several Brothers Grimm fairy tales and follows them to explore the consequences of the characters' wishes and quests.
The main characters are taken from "Little Red Riding Hood," "Jack and the Beanstalk," "Rapunzel," and "Cinderella," as well as several others.
The musical is tied together by an original story involving a childless baker and his wife, their quest to begin a family, their interaction with a witch who has placed a curse on them, and their interaction with other storybook characters during their journey.
"Into the Woods" is directed by Robin Stephens, associate professor of dance, with music direction by Dr. Jason Rinehart, associate professor and director of athletic bands.
KEDM Public Radio will host a Director's Gala from 5-7 p.m., on Saturday, April 5, in the Sculpture Garden between Biedenharn Hall and The Brown Theater Complex, preceding the evening's 7:30 p.m. performance.
The Gala is a catered event, which provides the opportunity for patrons to mingle with the production crew and cast of "Into the Woods." Tickets for the gala are $25. Show tickets must be purchased separately.
For ticket information, visit ulm.edu/vapa/tickets.html
Group discount rates are available by calling the VAPA Box Office at 318-342-1414. Group discount rates for KEDM's Director's Gala are available by calling 318-342-5556.