Published March 21, 2014
Current University of Louisiana at Monroe sociology majors Courtnie Pollard of Jennings, Lanie Roussel of Baton Rouge, and Alexandria Heavner of Pineville, each presented sociology research at the 32nd annual SouthEastern Undergraduate Sociology (SEUSS) Symposium, held at Emory University in Atlanta, Ga.
During the conference titled "Constructing Conflict and Change," the students gave professional presentations of their research, highlighting various areas of sociology.
Pollard presented "Disney and Popular Culture," Roussel presented "Gender Roles in Society: Through the Eyes of the Feminist Perspective Is Extreme Mainstream?" and Heavner presented "The Wizarding (And Real) World of Harry Potter."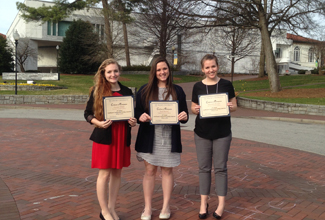 An abstract of each paper has been published in the conference's "Symposium Proceedings" publication.
According to their website, the SEUSS provides an opportunity for students to present their original research papers in a professional atmosphere.
The SEUSS believes preparing and presenting a paper is a great learning experience, which enhances both research and public speaking skills.
Such skills, along with networking with other young scholars, boosts professionalization and pathways to graduate school, law school, public health, and future careers.
Photo Courtesy