Published March 24, 2014
Dr. Joni H. Noble, associate professor in the Department of Art at the University of Louisiana at Monroe, was awarded the "Best Photograph" award, March 22, at the Big Easel Preview Show held in Lafayette.
Artists selected for the Big Easel Show will be honored from 9 a.m. to 4 p.m., on May 10, at the Town Square at River Ranch in Lafayette.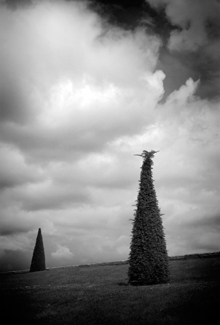 "I was thrilled," Noble said about winning the award. "I'm very honored to be included in this competition. Many gifted artists are represented."
The show is a national juried competition, which features one work of art from each of 77 artists who submitted work in various categories.
Noble's work, titled, "Hampton Court Palace Gardens" is a black and white, 30"x 40" large format black and white print, which Noble shot on location in July, 2013.
"The photo was taken at Hampton Court Palace just outside of London," said Noble. "My photographs were taken during my study abroad course that I teach in Europe every summer. [Hampton Court] is one of Henry VIII's palaces and it has lovely formal gardens. I was interested in the shape and starkness of the trees."
"I'm drawn to the simplicity of the subject and the brooding sky in the background. I thought this particular photograph had a lot of content."
Noble found it challenging to select only a few pieces for submission.
"It was difficult," she said. "During the summer, I generally shoot between 1500 and 2000 photographs. I chose three paintings and two photographs [for submission]."
Through her own experiences, Noble can provide advice to her students on how to become more successful when entering competitions.
"I advise them to enter as many shows as they can afford. Entry fees can be expensive. If they are not accepted in a competition, I tell them to keep trying. One judge may love your work, and another may not give it a second glance. Artists just have to be tenacious."
Noble received a Bachelor of Fine Arts in Painting from the University of Louisiana at Monroe; a Master of Fine Arts in Photography from Louisiana Tech University; and a Ph.D. in Curriculum and Instruction with an emphasis in Art Education from the University of Texas at Austin.
She has taught at ULM since 1997, and is a member of the National Art Education Association, the Louisiana Art Education Association, Kappa Delta Pi, and Phi Lambda Theta.
Photo courtesy Joni Noble